Are you tired of logging in to your favorite form builder just to check if you have received form submissions? Do you wish you had seen some form submissions earlier? Or would you like to reply directly to your users' form submissions with an email? With our new form submission emails all these problems are a thing of the past.
Let's say you have a small business, you are self-employed independent or an organization with a growing list of users. To improve the service you provide, you want to give your audience the opportunity to asks questions. For example, questions like a customer support question, a quote request, an appointment availability check, or a general contact form. It is an important part of your business and something your users would assume you would provide, but you do not want it to interfere with your existing workflow.
Although answering these questions would be a great and even fundamental part to your service, you still want to focus on your core business because that is what gets you paid and, in the end, puts food on the table. Dealing with those questions should therefore be done at a scheduled time when you are ready with other tasks. On the other hand, there could also be questions that are just too important and must be answered at once.
To enable your users to ask you those questions, you can use a form builder like FormFinch to create your online forms. But how do you stay on top of things when you never know when someone will submit an answer to your forms?
Enable Email Notifications for Form Submissions
With FormFinch this can be achieved very easily. When you already use FormFinch and created some forms, the only thing you need to do is:
Validate your email address (if you haven't already done that)
Navigate to the "Form Details" page for the form you want to receive submissions per email (go to the "Forms" page and click on the form name).
Here you will find your email notifications setting which you can change to your preferred setting.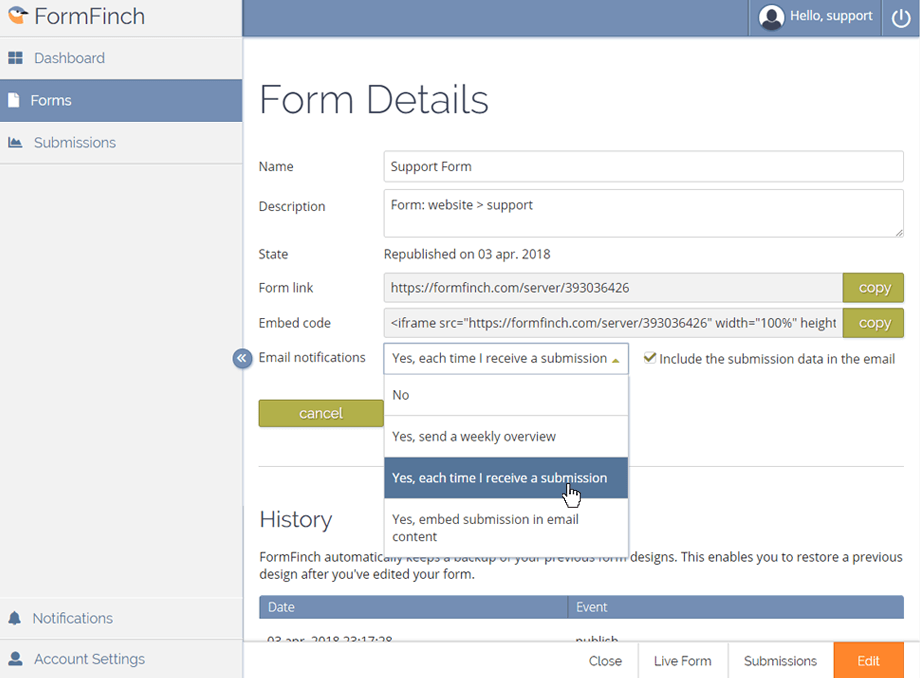 From the moment you hit save you will receive a new form submission in your email inbox on the email address you have registered with FormFinch. You can test this by opening the live form and submitting a question.
Of course, when you don't have a FormFinch account yet, you can sign up for a free account and create the online forms you need.
Email Notifications to Fit Every Workflow
There are different options to choose from depending on the type of form you have created, what the email contents should be and your workflow.
Directly reply to form submissions from your inbox
When you have a contact form, or a support form and you want to reply to those questions asked by your users by sending them an email. How easy would it be if you would receive their submission as contents of an email, so all you need to do is press reply and start typing?
When you select the "Yes, embed submission in email content" option you can do exactly that. But make sure you have an email component on your form. Because you have placed an email field on the form, you can use reply to in your email client to respond directly to your customer from your email client.
Get an email each time you receive a form submission
If you want to be notified instantly each time you receive a submission on one of your forms, but do not necessarily want to send an email reply, you can use this setting. We recommend this setting especially when your form includes personal data, but you still want to receive instant notifications, since it doesn't include the submission data by default.
When you do want to include the submission data as an email supplement, you can check the box which appears as an extra choice as soon as you select "Yes, each time I receive a submission".
Receive a weekly form submission overview
Do you have a form that does not need an email reply at all, but at the same time you do not want to log in just to check if you've received submissions? You can choose to receive a weekly overview. FormFinch will email you every week to report to you if you have received submissions, and if you did, how many.
Pro Tips
We set the subject of the email you receive to the first title field or the form name as a fallback. This will improve your workflow because it will be easier to filter and sort emails from different forms and it will give you the opportunity to add an email inbox rule to place emails in their own inbox folder based on the subject content.
If you want to integrate a form on your website, copy the iframe code displayed on the form details page and embed it on your website to place the form on any page you want.